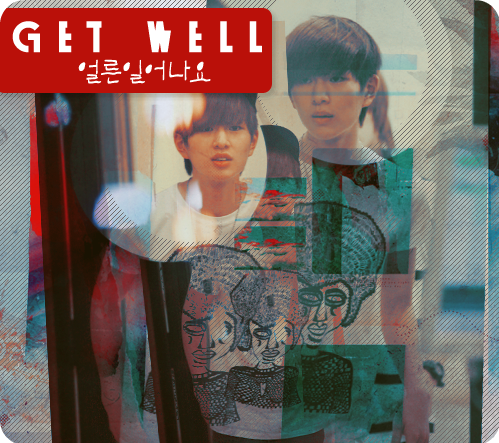 ©loveshane.

Onew was recently sent to the hospital after taping KBS Musicbank on June 26th. There were two accidents that happened that night; he slipped on stage during SHINee's Juliette performance which caused him to limp for the rest of the night. Then as various artists were exiting the stage after taping, a large light fixture nearly hit Onew. Out of shock, stress and other factors, Onew collapsed and fainted right after the incident causing him to be carried out of Musicbank. This isn't the first time Onew has been injured, so I have decided to host this special Get Well project for Onew. Please leave messages for Onew asking him to rest up and feel better quick. Please wish him good fortune and
health
for the future.

● Post all message entry forms in this very thread, do no pm them to me!
● All messages are due
July 1, 2009
NO EXCEPTIONS.
● Your message may only contain
up to
11 words total
.
● Any explicit or inappropriate language is strictly prohibited.
● Your message should strictly be about Onew's well-being, his health, and good fortune for the future.
● In your comment in this thread, do not add any of your own bbcoding (bolding, coloring, changing font).
● If you go over the word limit, I will simply skip your message without telling you, not including it in the booklet.
● Your message of 11 words can only be
one sentence
, do not split your message into two.
● You are allowed to use any type of punctuation marks you want.
● Actual numbers
do
count as words; example : 25, 092391, 2009.
● Actual symbols
do not
count as words; example : Saranghae Onew♥
● All your messages must only be towards
ONEW
, and no one else in SHINee.

[b]Name[/b]:
[b]Age[/b]:
[b]Location[/b]:
[b]11-Word Message[/b]: